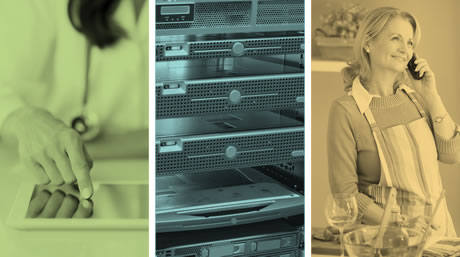 Mission
Statement
Cloud 9 Human Connection Solutions™ is committed to improving the efficiency and effectiveness of critical human communications by merging advanced cloud-based data and voice technologies to create powerful service applications that are affordable and secure. 
Focusing their individual areas of expertise on the common goal of building the most advanced Voice Technology system in the industry, three business partners formed Cloud 9 Human Connection Solutions™ in 2011.
Cloud 9's founders Jeff Rutherford, Bob Lange and Jeff Brownlee have more than 60 years of combined experience in the design, development, and operation of voice- and web-based services for industries including healthcare, staffing, and financial services.
This background has proven to be the right foundation for the development of a server platform and infrastructure for a reliable and feature-rich Voice Technology system – the basis of today's Cloud 9 Human Connection Solutions program.
Recently, Cloud 9 applied this platform to the development of a cost-effective solution to hospitals' need to better manage patient care and costs, particularly as they relate to patient readmissions. Using the group's core proprietary NextGen Voice Technology™ platform, the company created the industry's leading-edge patient follow-up program, Cloud 9 Healthcare™. 
The goal? To help hospitals better control costs through reduced patient readmissions and to improve patient satisfaction, sense of wellbeing, and outcomes. 
Today, Cloud 9 is working closely with major hospitals and other medical organizations to provide cost-saving, patient-centric follow-up contact solutions. Given the fact that Cloud 9 Healthcare is cloud-based, there is no need for capital expenditures for new hardware and software. In addition, the training required for implementation of the program is nominal. However, while the cost-of-entry for Cloud 9 Healthcare is low, the benefits of a stronger connection with the patient is priceless.
---

Jeff Rutherford
President
Jeff Rutherford has more than 30 years of experience in leading, designing and developing technical solutions, with concentration in voice technology and development of Cloud-based services. These services have included time reporting for large staffing companies and corporations, order and inventory management, high-volume outbound message delivery, and visit reporting for home healthcare workers.
Prior to founding Cloud 9, Rutherford served as Director and General Manager of a business unit of Equifax, where he led a 5-year strategic initiative for the company's Employer Services division.  Previously, he was co-founder and principal of Vendorclear.com, a credential verification service for medical device salespeople and technicians. Over the years, Rutherford has held a variety of leadership roles and served as a major contributor in start-up companies specializing in services ranging from business process outsourcing, interactive voice response solutions, and Enterprise telecommunications switching equipment and software.
Rutherford holds an Engineering degree from Texas Tech University and an MBA from the Southern Methodist University Cox School of Business.

Bob Lange
Vice President of Operations
Bob Lange has more than 25 years of experience in all phases of operation and delivery of hosted and on-premise telecommunications solutions and voice automation.
As VP of Operations for Cloud 9 Human Connection Solutions™, Lange serves as Cloud 9's customer advocate, helping to ensure a smooth, efficient process from system design to implementation. Lange is also instrumental in developing programs and services, working to constantly optimize the customer experience.
Prior to joining Cloud 9, Lange served in a variety of leadership roles, including strategic project management and account management for a range of healthcare industry initiatives. A proven business professional, Bob also offers significant international expertise and organizational experience for companies throughout the Western Hemisphere.

Jeff Brownlee
Chief Technology Officer
As CTO of Cloud 9 Human Connection Solutions™, Jeff Brownlee leads the design, implementation, and operation of the industry-leading services the company offers. His extensive background in information systems, including networking, telephony, and software design brings a level of fresh thinking to Cloud 9's offerings in the healthcare industry.
Prior to founding Cloud 9, Jeff founded and operated the technology firm Digerati, Inc., which provides highly-available infrastructure and software solutions within a rage of industries including banking, online entertainment, arts and culture, and publishing.