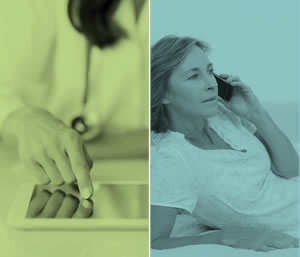 Provides a consistent contact with the patient
The call is always made at the same time, and unless changes are made, all calls cover the same information.  This consistency adds a positive measure of predictability for the patient.  In addition, the caller – Cloud 9's proprietary Voice Technology system – is always upbeat and friendly, not subject to a bad day or the bad attitude that can come with it.
Provides a consistent flow of patient data to healthcare professionals
This consistent collection process provides an outstanding source of raw clinical data for studies and performance analysis.
Personalized communication
While our physician-authored scripts pose questions that are proven to generate the data most healthcare providers want and need, this program offers the flexibility to accommodate custom scripting.
Readily implemented
Cloud 9 Healthcare integrates into your current processes and procedures quickly and easily, and little personnel training is required. In most cases, we can have your new system customized and configured for your organization and your patients within days.
Improves patient care
Armed with important information on the patient's condition and/or adherence to his or her discharge instructions, a healthcare provider can take early steps to head off potential problems.
Affordability
Because Cloud 9 Healthcare is cloud-based, there is no hardware to buy or software to license.  In addition, this system does not require a great deal of expensive training.  Finally, no long-term contract is required, and you are only billed for the level of services you engage.